Welcome to the Milford Music!

At Milford Music, we understand the importance of owning a piano. Whether it is a baby grand or a studio, a piano is more than an elegant piece of furniture. It is a lively instrument which allows you to tap into the enjoyment and healing powers of music. Our Kawai pianos are sure to be the finest quality you will find and we carry the best deals in the Delmarva region. So, whether you are considering a piano purchase for your home or church, come visit our Kawai showroom today.
DON'T MISS THE HOLIDAY SPECIAL!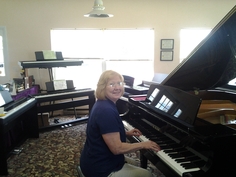 A NOTE FROM CATHERINE, STUDENT OF THE MONTH:
"Hello. My name is Catherine Porter. I have played the piano since I was young. I had lessons when I was about four years old; again when I was 12 to 13, and again when I was about 15. Over the years I learned to read notes, and some music notation, but never had lessons long enough to really develop skill. I played for a little country church for 3 years. I mostly played for my own pleasure. I became discouraged, and was thinking of selling my piano, because I had not played it in years.
I entered to win free lessons at the Delaware State Fair. I won 4 1/2 price lessons at Milford Music Center. After meeting and working with Pat, I have pursued playing piano again, and have strived to learn all I can. Most recently, I played at the Milford Music River-walk Festival. My family tells me it is no longer painful to listen to me play, and it is a pleasure to hear me play now."
Some Churches Served
First Baptist of Lewes | River Valley Ranch Christian Camp, Manchester, MD | Tabernacle Baptist Church, Churchville, MD | Wesley Chapel, Lincon, DE | Edge Hill Community Church of God, Dover, DE | Faith Baptist Church, Delmar, MD | St. Ann's Roman Catholic Church, Bethany Beach, DE | Mt. Peer United Methodist, Marion Station, MD | Sound United Methodist Church, Selbyville, DE | Cedar Neck Church, Milford, De | Union United Methodist Church, Denton, MD | All Walks of Life Ministry, Laurel, DE | New Jeruselem Baptist Church, Dover, DE | Reformation Lutheran Church, Milford, DE | Seaford Presbyterian Church | Faith Community Church, Camden, DE | Asbury John Wesley VMC, Millington, MD | Tabernacle Baptist Church, Churchville, MD | Zoar United Methodist Church, Rhodesdale, MD


"My idea is that there is music in the air, music all around us; the world is full of it, and you simply take as much as you require." - Edward Elgar





Parents, give the gift of music lessons to your child.
It is the gift that keeps on giving.
See our
Learning Center
page

.